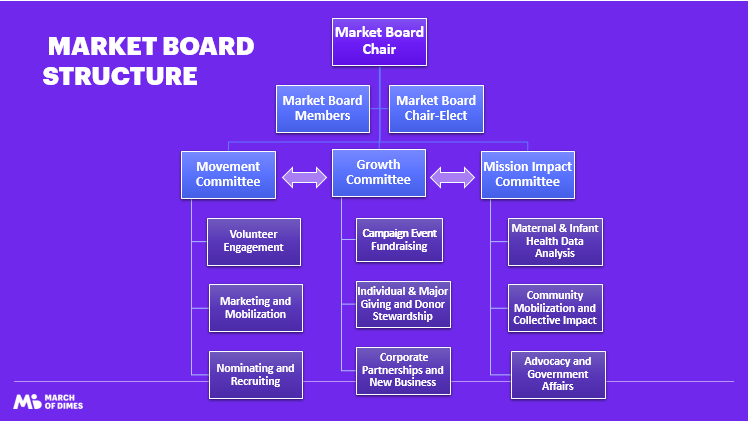 Our 39 Market Boards work in partnership with staff as a catalyst for change to drive revenue and to support, take action on and ultimately advance March of Dimes strategic priorities.
As a Market Board member, you are the community leader and connection between the March of Dimes mission and your market. With this clearly defined Market Board Structure, volunteers and staff can work together more effectively to leverage relationships and revenue potential to advance the mission in every market. The Market Board Charter defines the vision, purpose and structure for all boards. Our Market Board Operating Guidelines provide the framework for all boards to conduct the business of the March of Dimes in a consistent way.
The Market Board Standards of Excellence Assessment Tool helps boards gauge and assess their health and fitness for optimum performance, for the board at large and for each of the standing committees. The assessment provides baseline information, identifying gaps and areas for improvement.
All board members are asked to review the Volunteer Policy handbook and to sign the Volunteer Conflict of Interest and Confidentiality Agreement annually.
The Market Board Strategy Fact Sheet is a good starting point to share with your volunteers the Market Board Strategy. You will also want to use the scripted Market Board Strategy Introduction PowerPoint with your board members to help them gain an understanding of our direction.
Finally, volunteers have always been an amazing resource to our organization. Our Guiding Principles for Volunteerism provide some good tips to remember as we work with our market leaders.
For a quick look at the Market Board Strategy, check out this video created by Bill Keena, National Volunteer Leadership Council member and Tampa Market Board Chair.
Links to Resources: 
Volunteer Conflict of Interest and Confidentiality Agreement
Market Board Organization Chart
Market Board Charter
Market Board Operating Guidelines
Standards of Excellence Assessment Tool
Volunteer Policy Handbook Market Board Fact Sheet
Guiding Principles for Volunteerism
Market Board Member Orientation Videos
The National Volunteer Leadership Council has created a set of self-paced orientation videos for you to help orient you to your role as a Market Board Member. Each of the three short videos covers a topic designed to help you understand the March of Dimes overview, an overview of our Market Boards, and an overview of your role and responsibilities as a Market Board Member.